Extending the church to Tanzania
November 30, 2019
As part of the Saint Benedict the African family, Father Jonathan Hill's work with an orphanage in Kilwa Masoko, Tanzania has been supported with $3,000 from the parish.
The pastor, Father David Jones, expresses the intention of the donation: "Why are we giving $3000 to orphans in Tanzania when we need a new roof? Because God wants us in church with the orphans, and the orphans working with us despite the fact that they don't have parents and we don't have a good roof. It's not about the money. It's not about the haves and the have-nots. It's about the relationships we have with Jesus Christ and in Christ Jesus."
Father Jonathan Hill, MM responded to the Saint Benedict the African family, "I want to express my gratitude and the gratitude of the orphans you assisted by raising $3,000 for the orphanage. The children and their caregivers are extremely happy and grateful and surprised by your generosity. Please know that your hard work and giving has provided them with a year free of worry about their needs. They are able to buy clothing, pay their bills and eat good, nutritious food for a year! This is certainly a good feeling, and represents your love for the less fortunate and those living on the margins."
The money sent also went towards the development of a store. Father Hill reports, "The store has been open for a while now, and they are hard workers. They located it on a busy road in their village and are reaping large rewards for their work. They open seven days a week from 6 am to 10 pm. They recently purchased a refrigerator for cold drinks, and their profit margin is very high. They continue to send their thanks and gratitude."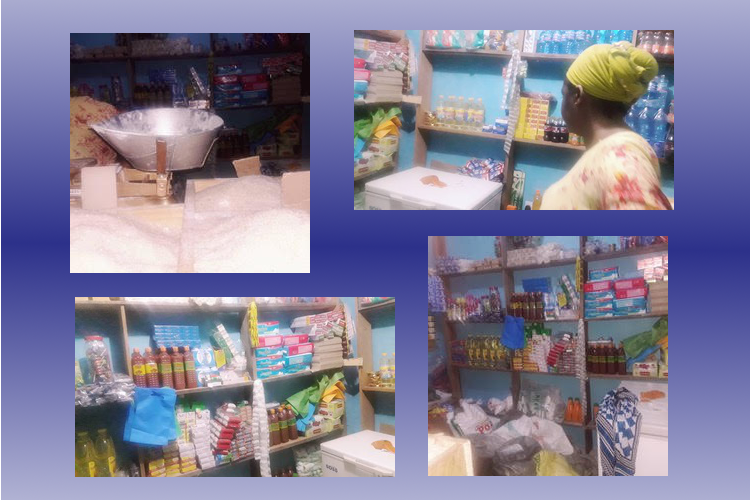 Father Hill reminds us all that "God calls us to care for widows and orphans, as they are the most vulnerable in our society. In fact, the Bible has more than 2,000 verses regarding God's concern for the poor. Sodom and Gomorrah were destroyed because they were not concerned about the poor (Ezekiel 16:49-50). The prophets of the Old Testament speak about the punishment of nations because they fill their bellies and do not care about the poor. And Jesus tells us over and over, from the story of the Good Samaritan to the Sermon on the Mount, that followers of Jesus and children of the Kingdom of God are required to look beyond their own needs to the needs of their neighboor. In fact, he gives us the greatest commandement, which summarizes the entire Bible: love the Lord your God with your whole being, and love your neighbor as yourself (Matthew 22:36-40). You have demonstrated that love.
My sisters and brothers, may God bless you for your generosity and love and care for your neighbor. I look forward to continuing to be a part of the generous family of St. Benedict the African, and I hope to see you again one day soon. Until then, may we continue to work and pray and serve the most vulnerable in our society wherever we find them. Asante sana, na Mungu awabariki ninyi! (Thank you, and God bless you!)"